This guide will hopefully help you repair your IBM PS/2 floppy disk drive if it is no longer functioning correctly. Leaking capacitors could be one (of many) problems which may cause a floppy drive to stop working.
In my experience usually only the two capacitors (seen in the middle of the drive) are the common ones to leak and cause problems. However, you can also replace the three 4.7uf / 16v capacitors as well, these are non-polarized (they don't have a positive or negative end).
In my repair I use tantalum and ceramic capacitors, but as long as the values and physical sizes are the same you can use whatever you wish. The Mouser.com and Manufacturer part numbers for the capacitors I used are listed below.
Sometimes these drives require trace repair due to the damage the leaking capacitors have caused. The capacitors in these drives are very small and require a steady hand. I offer repair services for these drives if you don't want to do the work yourself.
Capacitors Required:
4.7uf / 25v (x1)
Mouser # 80-T495B475K25ATE700 & Mfr. # T495B475K025ATE700
10uf / 16v (x1)
Mouser # 80-T491B106K16AT7280 & Mfr. # T491B106K016AT7280
4.7uf / 16v (x3)
Mouser # 80-C1206C475Z4V & Mfr. # C1206C475Z4VACTU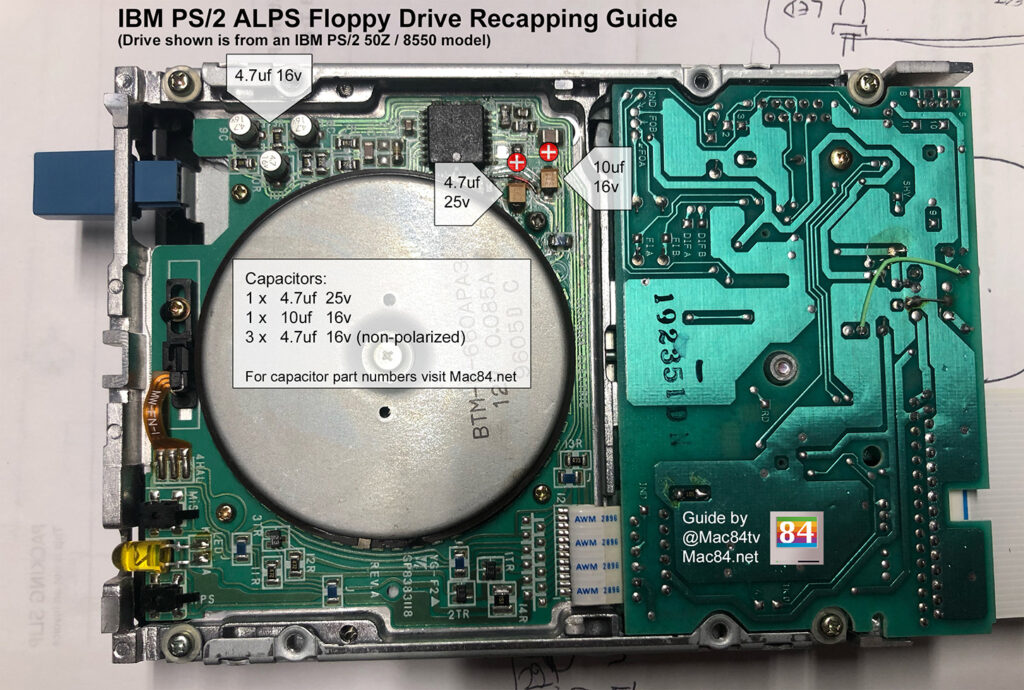 Download a high-quality PDF of this recapping guide (5.6 MB – PDF)
Please note: This guide does not cover the drive controller circuit board. This controller board contains its own capacitors, but differs depending on the computer the drive was shipped with. You may need to replace those capacitors as well.
Are you new to recapping?
If so I highly suggest you watch some tutorial videos and practice, practice, practice! on old junk boards, or something you don't care about (like a broken VCR, etc).

My friend Bruce has some excellent recapping and beginner soldering videos on his YouTube channel, as well as suggestions of beginner tools to purchase, check him out!