This guide will help you recap your Macintosh PowerBook 140, 145, 145B, 160 or 165 LCD Display. The passive-matrix grayscale display on these laptops can actually look quite nice when they are in good working order. However, due to leaking and failed capacitors these screens can look pretty nasty today. See the photo below showing a before and after look at this PowerBook LCD.
Remember, these are passive-matrix LCDs, ghosting and visual lines are normal!

Note: This guide was made from my personal experiences with these PowerBook models. Some revisions may vary and some similar models may use different capacitors. As always, your millage may vary so do your research before ordering parts!

Click here to watch a YouTube Live Stream of this repair being performed.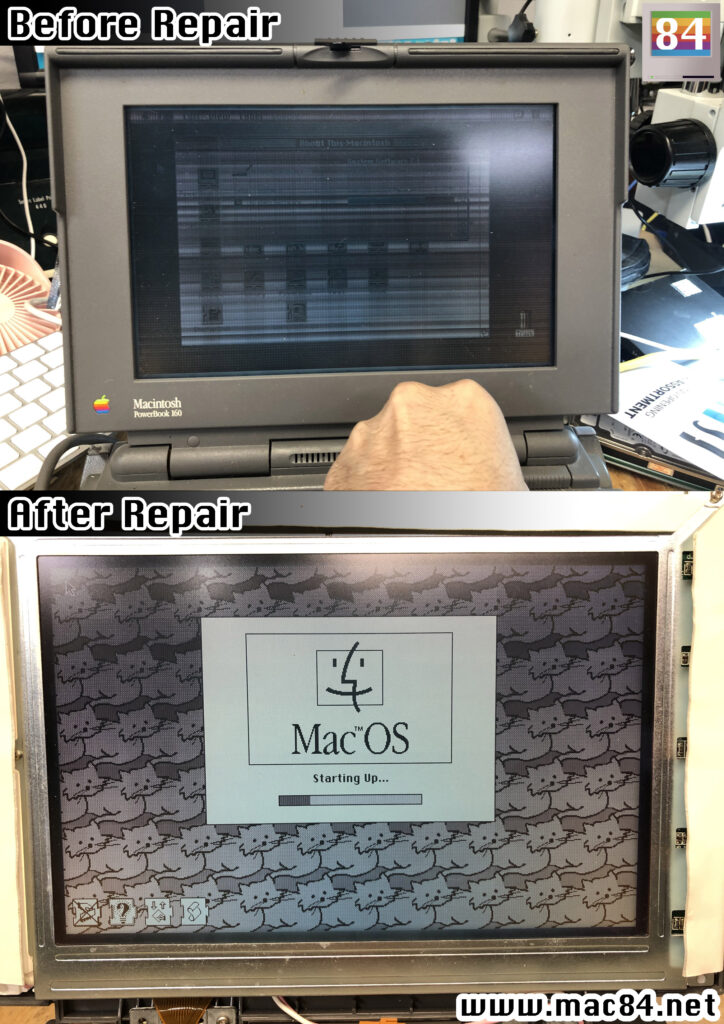 Recapping Diagram:
Click on the image to view it full size, or click here to view a high-quality PDF printable version.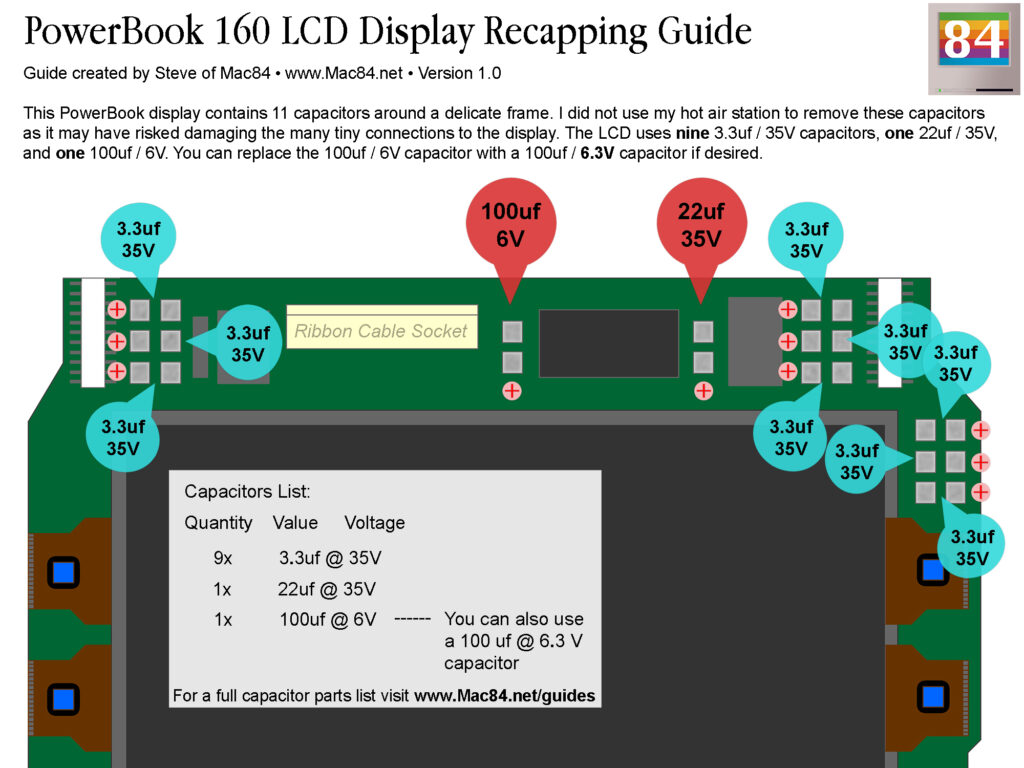 Capacitors List:

Please see the table below for a list of capacitors for this model. The size details (in millimeters) below are for the original capacitor, this will help you find a replacement capacitor that should fit. These sizes are approximates and may not be exact.

Note: Sometimes the URLs may not work, search for the Mfr. Part # instead to find a comparable component. Be careful and always compare the details, as these can all look the same!
3.3uf @ 35V (Qty. 9) | Mfr. Part # T491B335M035AT | Mouser URL
22uf @ 35V (Qty. 1) | Mfr. Part # T495D226K035ATE260 | Mouser URL
100uf @ 6V (Qty. 1) | Mfr. Part # T491C107K006AT OR Mfr. Part # TPSW107K006R0100 | Mouser URL (KEMET)

[Note: A 100uf @ 6.3V capacitor can be used instead. This is what I used and what I am linking to above. Also, due to component shortages, you can use the Mf. Part # to find similar parts on other supplier websites, like Digikey, etc.]. The above links have been updated as of 2/2023.
Caution: This guide, including the capacitor parts listed, are provided strictly AS-IS. You are responsible for doing your own research to confirm these parts match what you need. I cannot be held responsible for typos or damage you make to your own machine. This information is subject to periodic changes and updates.
Download a high-quality PDF of this recapping diagram (878KB PDF)