This guide will help you recap your Macintosh LC series power supply. This guide is for ASTEC brand power supply from a Macintosh LC III sold in the USA. Over the years these models shipped with different power supplies. So please do NOT assume this guide will be a perfect match for yours. Similar power supplies are also present in some Performa 400 series and the Quadra 605.

Although you may not need to replace the 47uf / 25V capacitor, in my case it was leaking, so I did replace it. So be sure to check the condition of the capacitors (removing them helps you get a better view underneath!) before deciding what you need to order. 🙂
Important Note:
A few different companies manufactured power supplies for the Macintosh LC computer series. This guide covers the ASTEC model power supply shown in the photo, model AA16251, although different revisions may require different capacitors. Below is the label from this power supply.


Recapping Diagram:
Click on the image to view it full size, or click here to view a high-quality PDF printable version.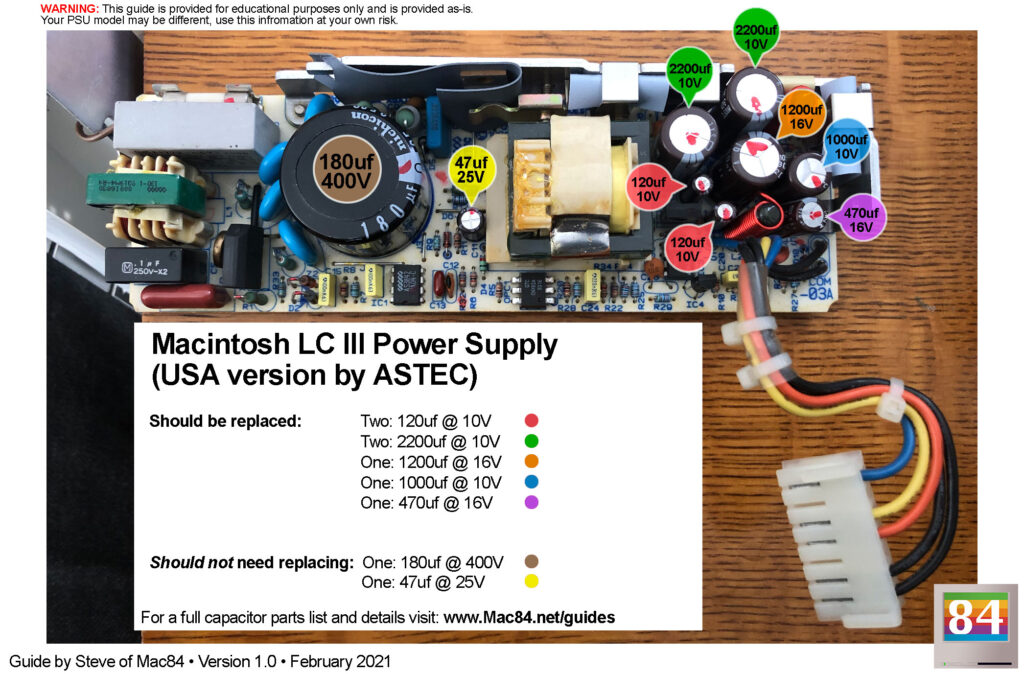 Capacitors List:
Please see the table below for a list of capacitors for this model. The size details (in millimeters) below are for the original capacitor, this will help you find a replacement capacitor that should fit. These sizes are approximates and may not be exact.

Caution: Part numbers for these capacitors are provided as a courtesy only, use this information AS-IS at your own risk! Some have suggested that low-ESR capacitors are required for some switching power supplies, please keep this in mind when selecting replacement capacitors. Although I have taken care to produce this list, this information is being provided strictly AS-IS. You are responsible for doing your own research to confirm that these match the parts you need. I cannot be held responsible for typos or potential damage. This information is subject to change without notice.
Capacitors that should be replaced:
2200uf @ 10V (Qty: 2) | Mfr. Part #: EEU-EB1A222 | Mouser URL
Width: 13mm, Height: 20mm, Pitch: 4mm
120uf @ 10V (Qty: 2) | Mfr. Part #: UPM1A121MED |Mouser URL
Width: 5mm, Height: 13-14mm, Pitch: 3mm
1200uf @ 16V (Qty: 1) | Mfr. Part #: EEU-FS1C122L | Mouser URL
Width: 13mm, Height: 20mm, Pitch: 4mm
1000uf @ 10V (Qty: 1) | Mfr. Part # EEU-FR1A102B | Mouser URL
Width: 10mm, Height: 20mm, Pitch: 4mm
470uf @ 16V (Qty: 1) | Mfr. Part # EEU-FR1E471LB | Mouser URL
Width: 8mm, Height: 8mm, Pitch: 3-4mm

Optional Capacitors that usually won't need to be replaced:
180uf @ 400V (Optional, Qty: 1) | I couldn't find one that wasn't too high.
Width: 30mm, Height: 25mm, Pitch: 10mm
47uf @ 25V (Optional, Qty: 1) | Mfr. Part #: EEU-FR1E470 | Mouser URL
Width: 6mm, Height: 11-12mm, Pitch: 2-3mm
Download a high-quality PDF of this recapping guide (2.6MB PDF)